Gastric band placement consists of placing a silicone band, the size of which can be easily modified, around the upper part of the stomach.
The stomach is a pouch located between the esophagus and the small intestine of about 1 litre.
The gastric band, also called gastroplasty, will separate your stomach into two pockets: an upper pocket of 15 to 25 cm3 (3 to 4 tablespoons) and a lower pocket.
Your stomach is transformed into a real hourglass, food will slowly pass through the gastric band.
This operation consists of placing, usually by laparoscopy, a silicone ring around the very high part of the stomach. This ring is connected by a tube or catheter to a small housing placed under the skin. This case allows the ring to be tightened according to weight loss. A simple injection of saline into the case will then gradually fill the ring. The ring is designed as a wheel with an inner tube inside and therefore the supply of liquid into this tube will reduce the amount of food that can pass through the stomach.
The purpose of placing this ring around the stomach is to reach, by successive tightening, the threshold of increase in intra gastric pressure sufficient to trigger satiety reflexes and thus reduce the amount of food consumed by patients.
OPERATIVE INDICATIONS:
• Patients with a BMI > 40 kg/m2
• Patients with a BMI between 35 kg/m2 and 40 kg/m2 associated with at least one comorbidity that could be improved after surgery (diabetes, osteoarthritis, cardiovascular diseases)
TIME REQUIRED
Duration of hospital stay
1 to 3 days.
Monitoring required after the intervention.
Average length of stay
2 weeks.
The surgeon will have to agree that the patient can fly again.
Flying can increase the risk of phlebitis.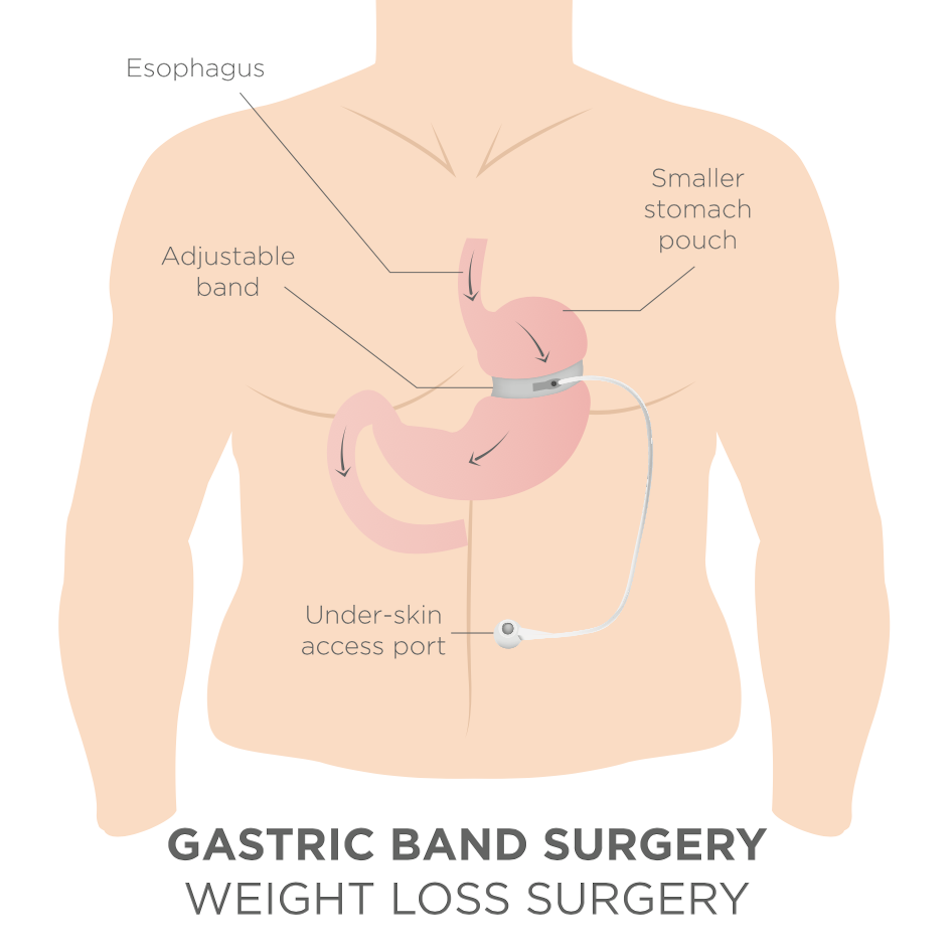 Installation of a gastric ring
How to find quality treatment abroad
Every year, nearly 11 million patients go abroad in search of medical care. At MEDICAIM, we provide our patients with access to the best hospitals and doctors around the world. Contact us to learn more about your treatment options.
383
Patients who have used MEDICAIM
600
Clinics in 25 countries
178
Countries represented by MEDICAIM patients
24/7
Availability of MEDICAIM customer service
Ask for your free quote abroad
Start your medical stay by requesting a quote. Our customer service department will help you find the clinic that best suits your needs and get you a quote.
The patient will have to undergo various tests and examinations before going to surgery as well as follow a diet. The surgeon will recommend that the patient stops all medication and stops smoking. The patient should be fasting from midnight the day before the operation.
**The preoperative check-up **:
• Biological assessment
• Abdominal-pelvic ultrasound
• Gastroscopy
The operation is performed under general anaesthesia by laparoscopic surgery, using 5 scars of 5 to 15 mm in the upper part of the abdomen, allowing the introduction of a camera, different instruments, and the ring itself.
The intervention lasts from 30 minutes to 1 hour. It consists in placing the ring at the upper part of the stomach, delimiting a small pocket above the ring, with a capacity of about 15 ml. There is no section made at the stomach level. The stomach is not altered and it is still possible to restore normal anatomy by removing the ring. This is a reversible procedure.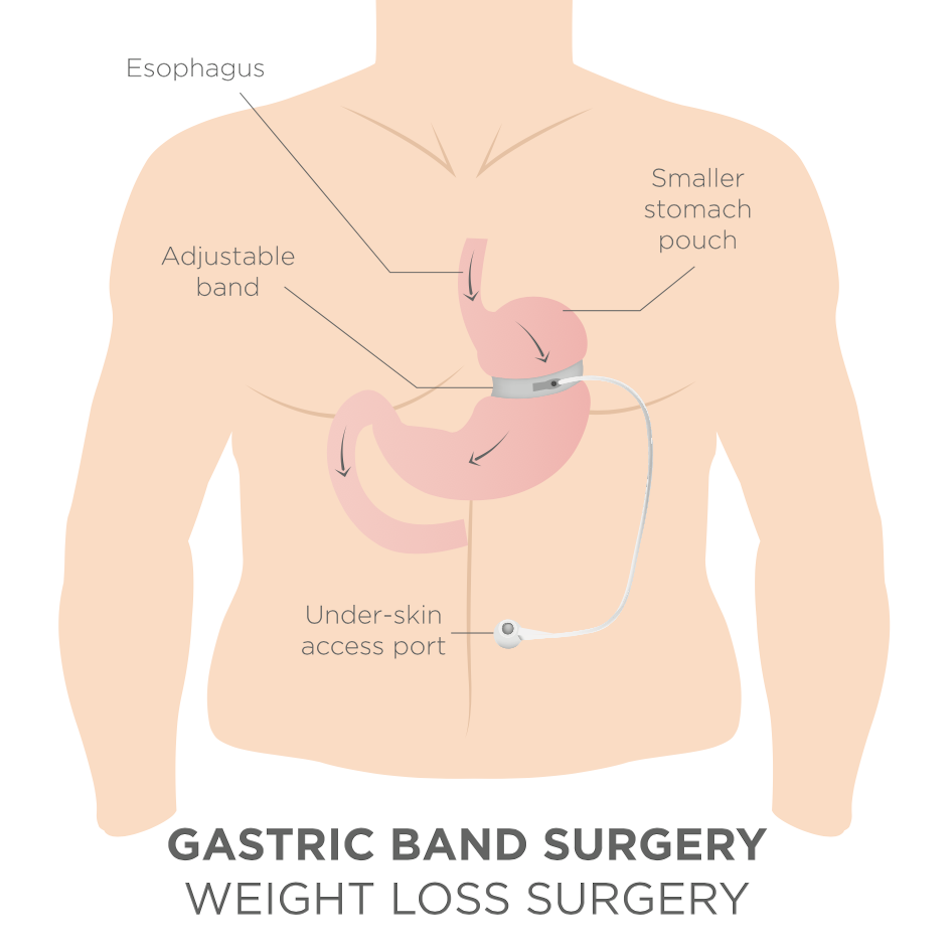 Installation of a gastric ring
After the procedure, you will spend a few hours in the recovery room, then be taken back to your room.
The duration of hospitalization is usually 48 hours before discharge from hospital.
Patients are allowed to take liquid food a few hours after the procedure.
This procedure is not very painful in the post-operative period and responds well to the simple analgesics that will be prescribed to you when you leave the hospital.
The doctor may recommend wearing compression stockings to reduce the risk of phlebitis.
The day after the operation:
• Resumption of a progressive diet respecting a specific nutritive program;
About Installation of a gastric ring
Nutritional monitoring must be regular (weekly and monthly)
The gastric band should result in a weight loss of 2 to 4 kg per month.
Potential risks:
• immediate complications: perforations, bleeding
• scar infections
• stomach ulcer
• stenosis (narrowing) revealed by vomiting
• vitamin deficiencies
• phlebitis
• frequent risk of dumping syndrome: discomfort (nausea, cramps, sweating and diarrhea) occurring after too much and/or too fast absorption of sugars.
MEDICAIM takes care of the follow-up on a case-by-case basis. www.medicaim.com
MEDICAIM is looking for the best specialists for you and we will offer you several renowned doctors.
MEDICAIM organizes your entire stay for you: post-operative nursing care, biological follow-up, therapeutic, nutritional and psychological support.
Any additional questions? Ask your MEDICAIM doctor about it: careteam@medicaim.com